DILI APARTMENTS
Apartments for rent in Ierissos
_____
About DILI
The apartment "Deili" is located in a two-story house. The distance to the sea is just a five minute walk. The apartments are ideal for families, but also for large groups. The space is very airy and bright. In addition to the air conditioners, the space is also covered with ceiling fans. There are all the household utensils to cook and dishes, glasses, etc. A cot is provided if needed. There is a solar and electric water heater for hot water supply. The apartments also have a large balcony with a small table.
At the back of the house is the garden with a grill, sink and tables to enjoy your coffee or food.
While the house is located five minutes from the sea, it is "away" from the hustle and bustle of the busy beach of Ierissos with its rather intense night life.

We will be happy to help you where we can by providing you with information and more, so that you have a pleasant time throughout your stay.
---
Distances from beaches:
Ierissos beach - 700 m.
Kakoudia beach - 2,3 km.
Gavriadia beach - 3,1 km.
Xiropotamos beach - 3,8 km.
Nea Roda beach - 4,1 km.
Thessaloniki Airport - 77 km.
Kavala International Airport "Megas Alexander" - 86,3 km.


Contact us to find out more information about the apartments.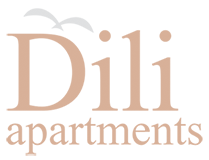 We are waiting for you at Dili apartments!